Bike Niagara and Niagara Freewheeler members engaged MPP Sam Oosterhooff (middle) on an enjoyable bike ride in Lincoln on Saturday, August 18tt
The member from Niagara West (MPP Sam Oosterhooff) enjoyed the bike ride and the discussion at our break point in the Twenty Valley Golf Club House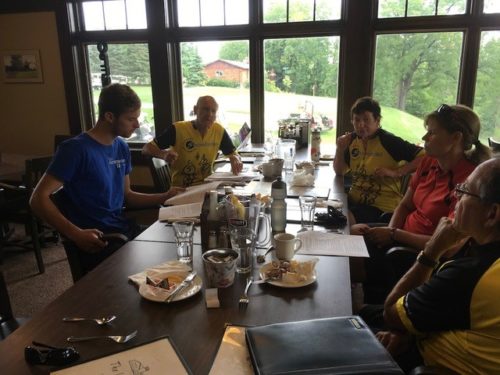 A review of the following talking points allowed the MPP to become acquainted with many cycling issues and concerns.
SUMMARY OF KEY TOPICS FOR DISCUSSION AND CONSIDERATION
 MANY BENEFITS OF CYCLING
Cycling serves a broad spectrum of users– cycle tourist, recreational cyclists, commuters, those that don't own motor vehicles, mobility for low income groups.
Cycling helps to achieve key community goals, such as:

Community healthfrom active living.
Economicbenefits from cycle tourism and the bike retail industry. E.g. $497 million generated by 1.7 million visitors to Ontario through cycle tourism in 2015 (source #Cycle ON Action Plan 2.0, copy to be attached).
Environmental– provides sustainable transportation and compared to motor vehicles results in better air quality, energy conservation, and reduced green house gas emissions.
Educational platform through cycling skills courses and school rodeos to help teach children and adults key values such as greater independence, self reliance, group dynamics, courtesy, communications and safety.
Land Usesupport of live/work environments by extending trip distances compared to walking and being an important element of complete streets projects and smart growth.
 SUPPORT FOR CYCLING INVESTMENT BY ONTARIANS
Source: Share the Road Cycling Coalition – 2018 polling by Nanos highlights: https://www.sharetheroad.ca/opinion-poll-data-s17022
67% of Ontarians agree that the provincial government should invest in cycling infrastructure.
61% agree that the Government of Ontario should invest in a new cycling education program much like swimming lessons.
70% support making it more convenient to take their bikes on buses.
32% of Ontarians would like to cycle to or from work.This means 3.5 million people could be on bikes and reducing traffic congestions.
WHAT IS NEEDED
EDUCATION
Of both motor vehicle drivers and cyclists, through continued improvements to driver education programs and support for safe cycling courses/rodeos.
Develop a cycling curriculum for public schools. There are excellent lesson plans that have been created that would support this approach.
Support for certification of bike safety instructors.
Support cycle skills training, especially for youth (through Tourism, Culture and Sport).g. Heart Niagara (funded by the Province) with Niagara Region Public Health and other partners have implemented a program of offering bike rodeos to elementary schools as an add-on to the school curriculum….but are facing many challenges.
Active School Travel Program – Lead by Green Communities Canada, Active School Travel work is underway with Ministry of Education funding. The program has a goal to make walking, cycling, and other forms of active, safe, and sustainable transportation the norm for trips to and from school. It provides safe and affordable transportation options for school travel (see attached details).
INFRASTRUCTURE
Support for:

safe bike routes – capital construction of bike lanes, paved shoulders, cycle tracks, multi-use trails, etc.
safe, secure, well placed bicycle parking at all land use destinations.
maintenance and rehabilitation – sweeping of roads in spring, fixing up pot holes and broken pavement edges, improving trail safety such as removing unsafe bollards (e.g. Greater Niagara Circle Route, Niagara maps to be attached).
integration of cycling with other modes of transportation such as transit, and bike racks at car pool lots.
CYCLE TOURISM
Support opportunities for economic development through cycle tourism

g. Marketing and building a Province Wide Network of cycling routes would support the continued growth of cycling tourism in Ontario, much like Quebec's Route Verte bike network. Over 9,800km of the Ontario network has been identified, with half already in place.
g. Support for the Cycle Tourism Plan – Tour by Bike, which
supports and promotes cycling as a tourism draw in Ontario communities.
PLANNING and DESIGN – FOR HEALTHY, ACTIVE COMMUNITIES
Land use, transportation plans, and official plans, etc. should incorporate policies, programs and projects that support cycling.

g. Bicycle Master Plans, complete street policies, smart
growth, active school travel, integration of bike parking, travel and public transit, and active transportation infrastructure across highways.
Evaluate, monitor and set targets to see what works and what does not work.
Update engineering planning and design manuals to incorporate best practices.

g. current work underway to update Ontario's Traffic Manual, Book 18 on cycling facilities.

Niagara Master Plan Study identified a 1200km on and off-road bike network, with $15.7m of strategic infill corridors to be developed in the future (copy of network map to be attached).
SAFETY
Safety is a key reason why most people do not ride bicycles
Important elements to improve bicycle safety are:

safe infrastructure,
educationfor motorists and cyclists and
enforcement for all road users.
PROMOTION AND ENCOURAGEMENT
Support for programs and projects that motivate people to cycle

g. bike to work month, open streets days like those being held in St. Catharines this summer and slow roll bike rides for families taking place in Pelham, and St. Catharines.
CONTINUED IMPLEMENTATION OF #CycleON Action Plan 2.0 (provided to MPP) – FromJamie Stuckless, Share the Road Cycling Coalition <jamie@sharetheroad.ca>
Key elements of this plan that need support:

Design healthy, active and prosperous communities
Improve cycling infrastructure
Make highways and streets safe
Promote cycling awareness and behavioural shifts
Increase cycling tourism opportunities
ALL PARTY CYCLING CAUCUS – Promoted by Share the Road Cycling Coalition
The All-Party Cycling Caucus will be starting again this Fall and all MPPs are encouraged to participate. Contact Jamie Stuckless above or one of the Conservative Co-Chairs, MPP Norm Miller atmiller@pc.ola.org
Cycling is a non-partisan topic that can be supported by all parties.
ATTACHMENT – EDUCATION – ACTIVE SCHOOL TRAVEL PROGRAM
Green Communities Canada – Active School Travel work underway with Ministry of Education funding.
Contacts:  Clifford Maynes<cmaynes@greencommunitiescanada.org>
Kate Berry <kberry@greencommunitiescanada.org>
Program Details:
A local project  supported by Ministry funding
The Ministry of Education is supporting a wonderful local project that will get more young people walking and biking to school in Niagara.
The Niagara Active School Travel project is co-led by the busing consortium (Niagara Student Transportation Services) and Niagara Region Public Health, in partnership with area school boards, municipalities, school communities, police, public health, and organizations such as Heart Niagara, Niagara Safety Village, and the Canadian Automobile Association.
The grant to Niagara is $100,000, with local matching in-kind resources of $195,049 = total program funding in Niagara of $295,049
This project has strong roots throughout Niagara andstrong support in Niagara West.
It's a great project that is helping to restore values of everyday physical activity and independent mobility for young people.
Benefits include health and fitness, improved school performance, improved safety for all road users, reduced school zone congestion, greater independence and self-reliance for young people.
The two-year local project is one of a dozen province-wide funded by the Ministry and supported by Green Communities Canada, which has been a leader in active school travel for more than two decades.
More information: ontarioactiveschooltravel.ca
Notes Drafted By:  David Hunt, (Fonthill) CAN-Bike Instructor, Bike Niagara and
Member Niagara Freewheeler Bicycle Touring Club
Reviewed by Invitees to the Ride:
Rita Dillon (St. Catharines) President, Niagara Freewheelers
Joel Honsberger, (St. Catharines) Safety and Education Director, Niagara Freewheelers Board
Ken Forgeron, (St. Catharines) Vice Chair of the Region's Active Transportation Sub-Committee, Member Niagara Freewheelers
Bob Romanuk (Niagara Falls) Member, Niagara Freewheelers
Pauline DeBoer, (Wainfleet) CAN-Bike Rodeo Instructor and Member Niagara Freewheeler
Sue Morin, (St. Catharines) Venture Niagara and Member Niagara Freewheelers (cannot join the ride)